Cell Morphodynamics
Priv.-Doz. Dr. Leif Dehmelt
Technische Uni­ver­si­tät Dort­mund
Fakultät für Chemie und Chemische Biologie
Chemische Biologie
Otto-Hahn-Str. 4a
44227 Dort­mund
Room: CP-02-157
E-Mail: leif.dehmelttu-dortmundde
Phone: +49 231 755 7057
Fax: +49 231 133 2299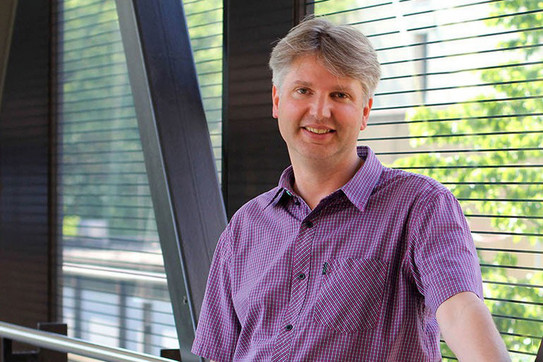 The development and function of multicellular organisms critically depends on regulated cell morphology changes. Perturbations in the signal networks that control these changes can lead to developmental anomalies or cancer. In our research group, we investigate how the morphology and function of mammalian cells is controlled by such signal networks. We particularly focus on self-organizing pattern forming mechanisms that emerge from coupled reactions and diffusion of molecules inside individual cells [1-3]. To study these systems, we implement an interdisciplinary approach [1,4,5] that combines acute, microscopy-based experimental perturbations, the development of novel analysis technologies and theoretical investigations.
[1] Kamps D, Koch J, Juma VO, Campillo-Funollet E, Graessl M, Banerjee S, Mazel T, Chen X, Wu YW, Portet S, Madzvamuse A, Nalbant P, Dehmelt L, (2020).
Optogenetic Tuning Reveals Rho Amplification-Dependent Dynamics of a Cell Contraction Signal Network.
Cell Reports 33(9):108467
[2] Graessl M, Koch J, Calderon A, Kamps D, Banerjee S, Mazel T, Schulze N, Jungkurth JK, Patwardhan R, Solouk D, Hampe N, Hoffmann B, Dehmelt L, Nalbant P (2017).
An excitable Rho GTPase signaling network generates dynamic subcellular contraction patterns.
J Cell Biol 21(14):5311-6.
[3] Dehmelt L, Bastiaens PI (2010).
Spatial organization of intracellular communication: insights from imaging.
Nat Rev Mol Cell Biol 11(6):440-52.
[4] Chen X, Venkatachalapathy M, Kamps D, Weigel S, Kumar R, Orlich M, Garrecht R, Hirtz M, Niemeyer CM, Wu YW, Dehmelt L. (2017).
Molecular-Activity Painting": Switch-like, Light-Controlled Perturbations inside Living Cells.
Angew Chem Int Ed Engl 21(14):5311-6.
[5] Gandor S, Reisewitz S, Venkatachalapathy M, Arrabito G, Reibner M, Schröder H, Ruf K, Niemeyer CM, Bastiaens PI, Dehmelt L (2013).
A protein-interaction array inside a living cell.
Angew Chem Int Ed Engl 52(18):4790-4.
We are always looking for talented co-workers and students who would like to join our lab. Please contact us via email if you are interested.